Schools and Educators
How do we align with the new curriculum?
We really value the Kaupapa of Sexwise. Each year it has been consistently relevant to the students, engaging and linked to the language we use which is connected with the NZC.
What is Sexwise?
Sexwise enables youth to gain current, accurate information about sexual health and well being in an engaging workshop environment.
Who is it for?
The youth of Aotearoa in Years 9-13, with a specific focus on decile 1-6 or equivalent Equity Index High Schools, as well as Māori & Pacific communities.
Where is it available?
We visit schools, Te Kura Kaupapa Māori, alternative educators, Youth Justice Centres, Teen Parent Units and Youth Groups nationwide on an annual tour. Our Sexwise Facilitators travel the length and breadth of Aotearoa to deliver our programme.
How much does it cost?
Sexwise is fully funded for: The youth of Aotearoa in Years 9-13, in decile 1-6 or equivalent Equity Index High Schools, or educational settings with a large percentage of Māori or Pacific Island youth.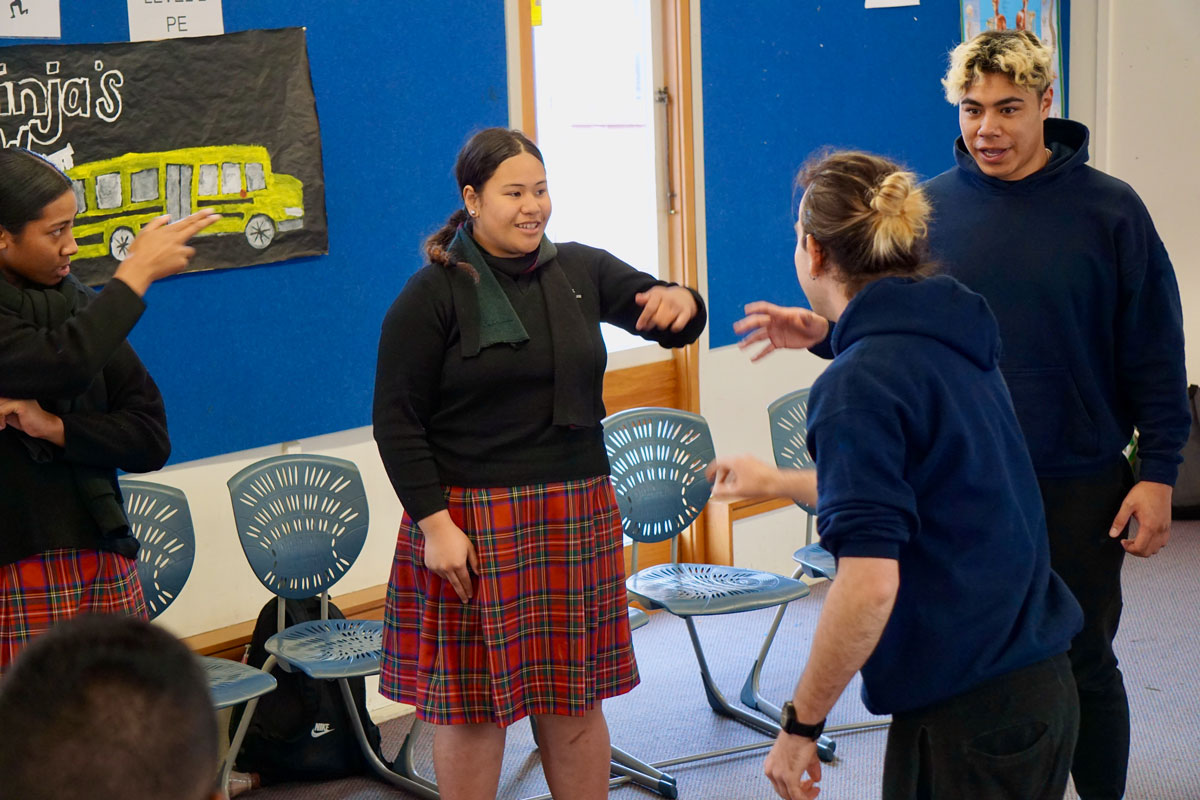 How does Sexwise work?
The Sexwise Tour travels throughout Aotearoa annually and is designed to enhance the existing Relationships and Sexuality Education curriculum. Up to 100 students per day can participate from Years 9-13.
All students watch a play and participate in a workshop, which sparks conversations around sensitive topics; whilst facilitators support the students with problem-solving, increasing understanding, positive attitudes and confidence about building healthy relationships, and looking after their sexual wellbeing.
Our facilitators use an approach known as Applied Theatre, which has been used by many organisations in New Zealand including government departments to help shift mindsets and evoke positive change.
It has the ability to break down barriers and pave the way for meaningful dialogue between students, teachers and facilitators, making it the perfect tool for topics that are often considered taboo.
The Sexwise programme consists of a performance by our professional facilitators depicting four teenage friends struggling with various aspects of their sexuality and relationships; followed by a workshop where students discuss the scenarios, work together to find solutions and offer advice to the characters. This feedback is then used to replay certain scenes so that students can experience the impact of their ideas.
The programme is revised every year by professional facilitators who are easy for teenagers in Aotearoa to relate to, in terms of age, culture, sexual and gender diversity.
No two sessions are the same because each student brings their culture, faith, experience and challenges with them. This means that the solutions and advice developed reflects the values of the students in that class.
The programme uses several tools, including waiata, humour, contemporary references and interactive games to 'break the ice' and remove barriers during the workshop to allow open discussion of potentially difficult topics.
When is Sexwise coming to your region?
View the dates for our national tour here.
What to expect on the day?
We support schools to use Sexwise as part of an integrated approach to the delivery of the Sexuality and Healthy Relationships component of the New Zealand Curriculum.
Teachers should use the programme as an experience to enhance the broader curriculum delivery they are planning for their students.
All rangatahi need to participate in both the performance and one workshop.
We can deliver to a maximum of 100 rangatahi per day. We will help you to build a schedule that fits your timetable.
On the day, teachers and support staff are welcome to join in, but keep a low profile to allow students to participate and speak freely.
What we need from you...
A clean, comfortable classroom or group space large enough to hold your participating youth
Someone to welcome the facilitators on arrival, show the team where the adult bathrooms are, and provide a health and safety briefing.
It is mandatory to have one qualified teacher present at all times during both the performance and workshop/s.
Four chairs.
Who needs to be involved?
Work with your school nurse and/or counsellor to prepare for the visit. It is important that trusted members of your school team are available during and after the programme to support any disclosures, triggering, and answer any questions or concerns your rangatahi may have as the learning sinks in.